ABOUT US
In February 2016, a group of friends in Geneva, Switzerland met to share ideas and thoughts about starting an association, based on a glimpse of hope for renewed dialogue between Israelis and Palestinians. The man who inspired this positive impulse among this group is a Palestinian peace activist :
Ali Abu Awwad.
Upcoming event in October : Screening of the documentary Disturbing the Peace – first week of October in Geneva and in Paris (venues to be confirmed) ! – Stay tuned for more details regarding this amazing documentary by Stephen Apkon, Andrew Young and Marcina.
ABOUT THE FILM

​
Disturbing the peace is about former enemy combatants – Israeli soldiers from elite units ans Palestinian fighters who have joined together to challenge the status quo and say « enough. » The film reveals their transformational journeys from soldiers commited to armed battle to nonviolent peace activists, leading to the creation of combatants for peace.
Combatants for peace have the potential to capture the public's imagination and shift the conversation from the inevitability of conflict, to the possibility and process of establishing lasting ppeace. This organization has been nominated for this year's nobel peace prize.
​
The Screening of the documentary will be followed by a panel with two members of CFP, an Israeli and a Palestinian who will answer questions and talk about their personal experience.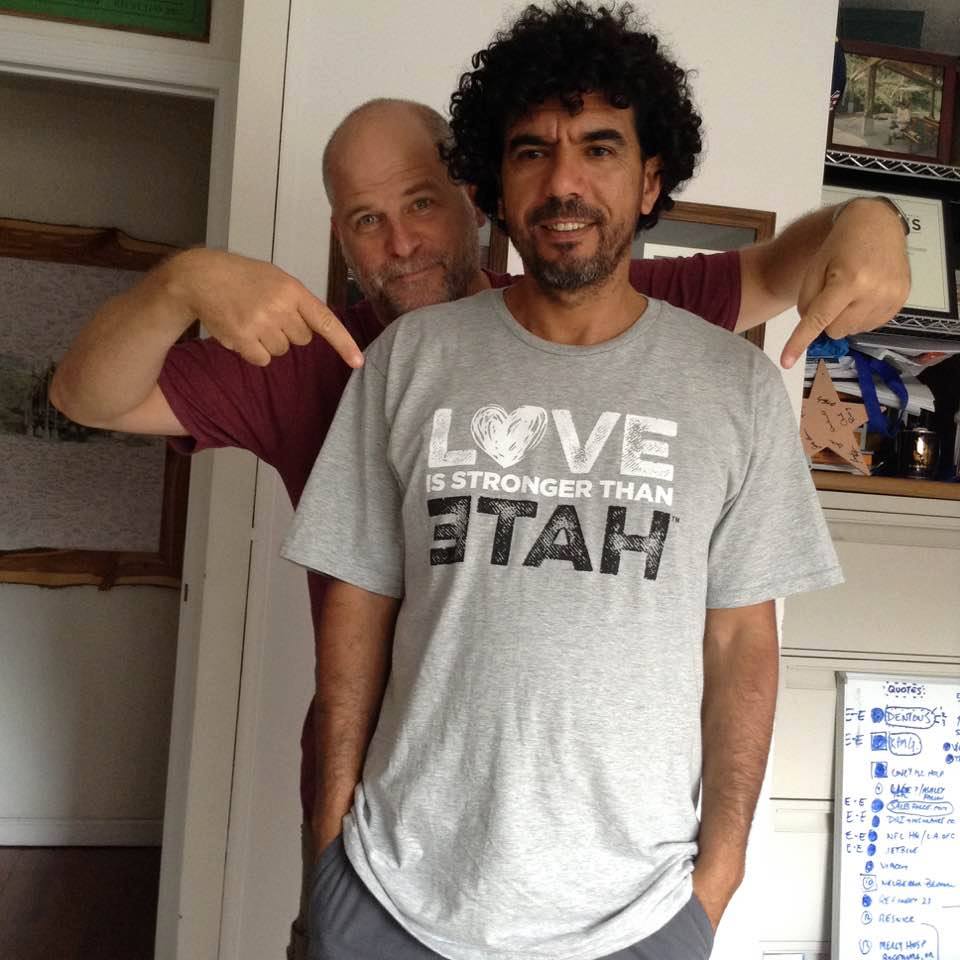 Friends in Lausanne, Geneva and region, SAVE THE DATE !

B8 of Hope is inviting you to a complimentary screening of the multiple award winning documentary Disturbing the Peace in presence of the protagonists of the film, Chen Alon and Souli Khatib, members of the Combatants for Peace, which have been nominated for the Nobel Prize 2017. Combatants for Peace is an non-governemental organization, founded by former Israeli militaries and ex-Palestinian fighters and prisoners who have decided to put their weapons aside and work hand in hand together to pave a path for peace. This is a unique opportunity to see an amazing film and get to ask questions to the protagonists after the screenings.

First come First served… !
Option 1: Wednesday Oct.4th at the Centre des Arts Ecolint 19h30
Option 2: Thursday Oct. 5th at the Rosey Concert Hall 20h15
Compulsory registration through the links below:
https://www.ecolint.ch/disturbing-peace
https://tinyurl.com/roseyconcerthall
EVENTS
April 2016 : Fund raising event in San Francisco
B8 of Hope members hosted a VIP private dinner in San Francisco, with American guests from different professional backgrounds, including key members of the Silicon Valley start ups and venture capital world. 
The guests got to know Ali Abu Awwad who presented the activities of both Judur/Shorashim/Roots and Taghyeer/Change. A few members of the US Friends of Taghyeer were also present at the event.
May 2016 : B8 of Hope members met with a group of Israeli and Palestinian Peace activists from different organizations, to get to know the different initiatives on the ground.
October 2016 : B8 of Hope facilitated a visit to the Karama Center in Gush Etsion where Judur/Shorashim/Roots activities are taking place for a group of visitors from Geneva. The group of Swiss guests also got to hear a few members of Taghyeer and learn about the importance of this mouvement.
November 2016 : B8 of Hope provided the opportunity for a group of Young Presidents Organization (YPO) Geneva members  a visit to the Karama Center. The visitors met with Sami Awwad (Holy Land Trust), Huda Abuarquoub (Alliance for the Middle East Peace), Jean-Marc Liling Shaul Judelman (Judur/Shorashim/Roots) (Roots), Ryad Al-Halees (Taghyeer).
March 2017 :
B8 of Hope partnered with different Geneva and Paris institutions for conferences featuring Ali Abu Awwad presenting Judur/Shorashim/Roots and Taghyeer  at the Geneva Festival et forum du film des droits humains  the University of Geneva Global Institute and in Paris, the Ecole active biligue, Cercle Martin Lazare, Mouvement Juif Libéral de France and Sciences Po Paris.