On June 29th 2020, Yara Amayra and Noa Golan, two young peace builders came to Geneva for a 48-hour stay with us.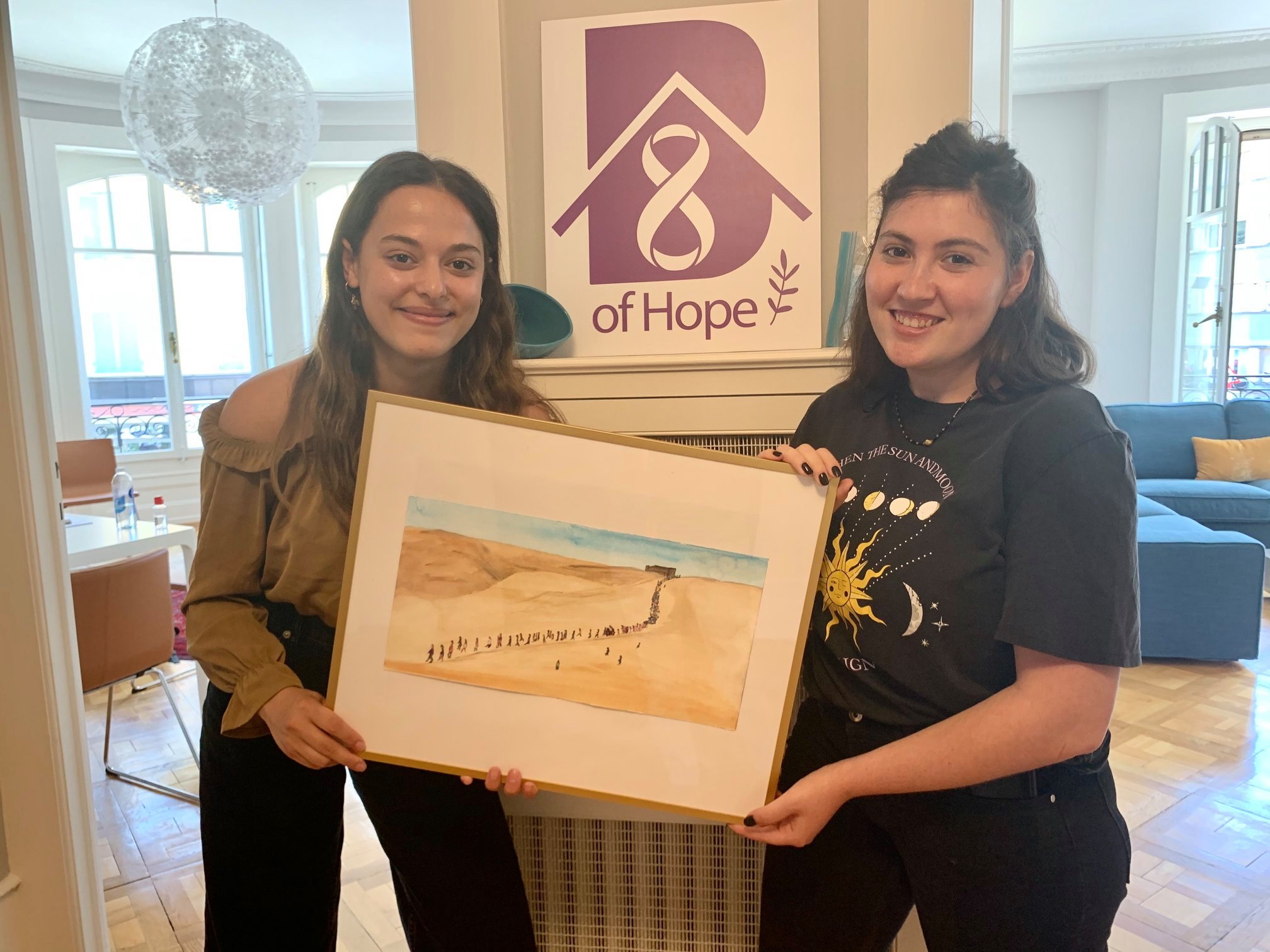 At the beginning of this year, they came to study abroad, Noa in Amsterdam and Yara in Dijon. Before they head back home this summer, we gave them a chance to see each other without complications. It was also an opportunity for our B8 of Hope friends and volunteers to meet with them. Many of which had seen the film Guerrières de la Paix (a film partly funded by B8 of Hope) which features Yara and Noa.
Day 1 was fun and busy! We started off at the B8 of Hope work space on a Zoom call organized by volunteer Milena Caye with a group of Swiss and French International students which also included two of our last summer's interns Ilona Métais and Parker Bryan. The take-away words from this zoom were : Inspiration, Hope, Respect for the other, Open mindness, Coexistence and Appeasement.
On day 2, Noa and Yara participated in B8 of Hope podcast, first episode (click here to listen via Spotify, Anchor or Soundcloud), in which they spoke about their story of friendship. Thank you The Spot for hosting us! Finally, the day ended with a socially distanced get together with friends of the B8 of Hope community at David and Mehra Rimer's house.
Yara is a Palestinian from Dura in the West Bank, and Noa is Israeli, from Tel Aviv. They met each other for the first time in 2016, when they participated in a march organised by one of our grantees : the Women Wage Peace movement.  A beautiful friendship was born between them, they maintained it despite the challenges of the separation wall between Israel and the Palestinian Authority Territories.
Noa and Yara will be the leaders and key drivers of our B8 of Hope Youth Group.
On April 27th 2020, B8 of Hope invited its community of friends, supporters and peace-builders to participate to the joint Israeli-Palestinian Memorial Day Ceremony.
The virtual gathering, livestreamed from Tel Aviv and Ramallah, has now become the largest joint Israeli and Palestinian peace event in history ! Over 200,000 people joined from all over the world to show that war is not inevitable and that the pain is the same on both sides.   
WATCH THE RECORDING BELOW:

This event was co-organized by Combatants for Peace and The Parents Circle-Families Forum. B8 of Hope has been a financial sponsor of it. Many members of the peace-building community and members of The Alliance for the Middle East Peace (ALLMEP) have been partnering with the ceremony.
Combatant for Peace are former Israeli militaries and former Palestinian freedom fighters, who put down their weapons to work together for a just and peaceful solution.
Parents Circle-Families Forum represents hundreds of bereaved families from both sides sharing sorrow and joining forces on a new path of peace, equality, and dignity for all.
The joint Israeli-Palestinian ceremony is not about glorifying the manner in which anyone died but rather about sharing what the bereaved families have in common : the indicible pain of losing a child, a parent or a sibling and this important message :
"If I who have lost a beloved one can walk the path of peace, then surely you can too".
The first ceremony back in 2006 gathered several dozens. Last year, they were over 8'000 participants. This year, the covid-19 situation makes it very challenging but we hope that they will break a record !
In a spirit of solidarity with Israeli and Palestinian inspiring peace-builders and in the hope of turning their model to an example for other conflicts in the rest of the world, let's make this 2020 virtual edition and its universal message of reconciliation go viral !